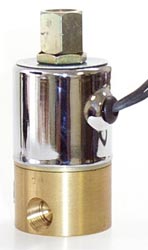 PTP 90054074PTP Air Solenoid Valve, Normally Closed, Inflates When Powered
Special Notes

none

Product Description

Manufacturer: PTP
Part Number: 90054074
For intermittent use only
Inlet port normally closed
1/4" NPT ports
12-Volts DC
100 psi maximum operating pressure
This air solenoid valve is normally closed which means that air will not travel to your air circuit until you switch power to the solenoid. Once you switch on the solenoid, air will pass through the solenoid into the air circuit.
---

---

---

Customer Ratings & Reviews
Be the first to rate this item!