Medium and Heavy Duty Truck and Trailer Suspension Air Bags
Convoluted air springs come in 3 styles - single, double, and triple convoluted. Double and triple convoluted are the most popular. These are air bags are usually found in trailer suspensions.
The Reversible Sleeve is the most popular style of air spring used in truck and trailer suspensions today.
The air springs listed on our site are sorted by the last 4 digits of Firestone's part number. For example, we will have a W01-358-9780 listed as a 9780. If you have the Firestone number, you can do a search in the box near the top of the page, and your air bag should be listed in the results. If not, give us a call or send an email to check on availability.
We also have many suspension manufacturer's part numbers listed in each air spring's details. If you have a Neway, Hendrickson, Kenworth, or other manufacturer number, you can try searching for that number in the search box near the top of the page. Call us toll free at (866) 584-1084 if you don't find a match, and we will try to find a cross reference for you.
Identifying Firestone Air Springs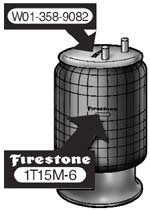 You can also search for the rubber bellows part number if you don't have the Firestone or the suspension manufacturer numbers. The bellows number can be found directly under the Firestone name on the rubber. A typical reversible sleeve bellows number is 1T15M-6. A typical convoluted bellows number would look like 20F or 313D. Sometimes there is only one air bag that uses a specific bellows number, but most of the time there are several air bags that use the same bellows. You will need to find the air bag that has the same top plate and bottom piston configurations. Be sure to check the maximum and collapsed heights too.
If all else fails, call your local truck or trailer dealer with the VIN number to get their OE part number. We should be able to cross that number to something we stock or can special order.