Pro LED 602C 27-Diode 6-Inch Oval LED Back-Up Light
Part Number:689-602C
$39.98 USD
This item is unavailable
at this time
Product Details
---
Special Notes

none

Product Description

Manufacturer: Pro LED
Part Number: 602C
6" Oval LED Back-Up Light
DOT Compliant, Must use two lamps
Voltage: 12 volts DC
Light Source: LED
No. of LEDs: 27
Lens Color: Clear
LED Color: White
Lens Material: Polycarbonate
Housing Material: Polycarbonate
Required wire plug and grommet sold separately
Cross References: 602C, 689-602C, 6060C, 60204C, 60284C, 62751, 62521, 821-10, 82110, M821C-10, M821C10, 821C-7, 821C7, BUL10CB, BUL10CBP, BUL111CB, BUL111CBP, BUL12CB, BUL12CBP, BUL22CB, BUL22CBP, BUL52CB, BUL52CBP
A cross reference listing means that this item may be a suitable replacement for the part numbers listed. Please double check the product description carefully to make sure this part will fit your application.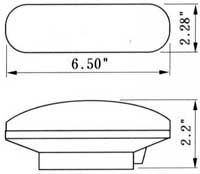 Be the first to rate this item!