Pro LED 500 Series Amber Beacon with Permanent Stud Mount - 12VDC
Part Number:689-500Y
$88.98 USD
Product Details
---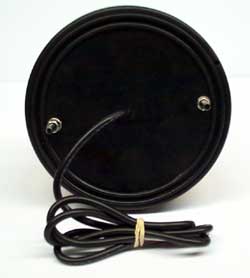 Special Notes

none

Product Description

Manufacturer: Pro LED
Permanent screw mount installation
Quad flash pattern
12-volts DC
120 Super Bright LEDs
4-5/8" overall height
5-3/4" mounting base diameter
Vibration resistant - No flash tube to burn out
No motor, no noise
Includes rubber base with mounting studs
Mounting studs on 4-1/8" centers
Beacon, including all electronics, is permanently sealed
500Y LED Beacon Owner's Manual ( .PDF )
This beacon is only a couple bucks more than the flash tube light its meant to replace, so there is no reason to keep buying flash tubes. Also, the entire beacon assembly is permanently sealed to prevent moisture, dirt, and general grime from entering. The electronic components are even encased in epoxy to ensure that there is no chance of corrosion shortening the life of your warning beacon.
Cross References: North American Signal ST500A, Peterson Mfg. 769A, 7691A and 7692A, and Truck-Lite 92530Y, Custer STR-120LED, STR120LED, Automann 571.LD6AL24, 571LD6AL24
A cross reference listing means that this item should be a suitable replacement for the part numbers listed. You should check the description to be sure it will work in your application.
Be the first to rate this item!