*Buy any 10 LED marker lights, and this product ships for free!
Pro LED 200YS Yellow 2-Inch Round LED Marker Light with Stripe Lens
Part Number:689-200YS
$6.55 USD
Product Details
---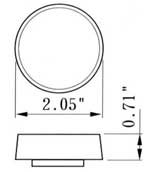 Special Notes

none

Product Description

Manufacturer: Pro LED
Part Number: 200YS
Voltage: 12-volts DC
Lens Color: Yellow
LED Color: Yellow
Lens Pattern: Stripes
No. of LEDs: 10
Lens Material: Polycarbonate
Housing Material: Polycarbonate
Plug Type: Standard 2-Pin
Mount Type: Grommet
Cross References: 200YS, 689-200YS, 571.LD30A10MV, 571LD30A10MV, HD20010Y, RM1815-1A, RM18151A
A cross reference listing means that this item should be a suitable replacement for the part numbers listed. You should check the description to be sure it will work in your application.
Be the first to rate this item!