*Buy any 10 LED marker lights, and this product ships for free!
Pro LED 10728G Open Back Rubber Grommet For 2-1/2" Clearance/Marker Lights
689-10728G
$1.33
Product Details
---
Special Notes

none

Product Description

Manufacturer: Pro LED
Part Number: 10728G
OPEN BACK GROMMET
Flush mounts 2.50" lights
Wide groove for panel thickness up to 0.25"
Recommended hole size: 2.781" dia.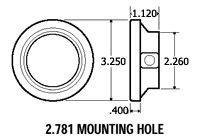 Cross References: 10728G, 795-10700, 10700, 25400, 96-90388-1, TRU10700, 800-140250, 88-10700, 80887, 81752, 83887, 45291201, 1000-RG55, 8413-10700, M50100-B, WA55206-1, 9119, A-55GB, A-57GB, 91880GRO, 143-18, B14318, GR2504, PT1000G, S10-0G00-1, LT10G, 3440, 9219, 9119, 8160763, 55620028
A cross reference listing means that this item may be a suitable replacement for the part numbers listed. Please double check the product description carefully to make sure this part will fit your application.
Be the first to rate this item!