SAF Holland PH-310RA11 50-Ton Rigid Type Pintle Hook With Air Cushioned Snubber, Wide Mount Pattern
Part Number:370-PH310RA11
$603.39 USD
Product Details
---
Special Notes

none

Product Description

Manufacturer: SAF Holland
SAF Holland PN# PH-310RA11
Includes Holland's Fast Latch mechanism for one-handed operation
Heat treated cast alloy steel body
Drawbar Eye Dimensions: 2.38" to 3" with 1.25" to 1.63" diameter section
Tested in accordance with SAE J847 (Type II)
MGTW: 100,000 lbs.
Max Vertical Load: 20,000 lbs.
Includes air cushioned snubber
SAF Holland PH310 Tech Sheet (.PDF 401 kb)
The SAF Holland PH310 Series rigid mount pintle hooks are designed for trailers, semitrailers, and doubles and triples operations. Used for off- and over-the-road applications, with an air cushioned snubber, designed to minimize the space between the pintle hook and the drawbar on vehicles with air systems.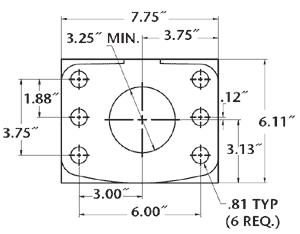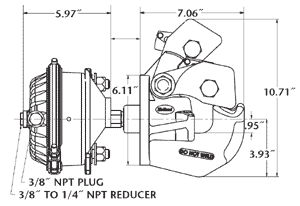 Cross References: PH-310RA11, 370-PH310RA11, PH310RA11, 3889-PH310RA11, HLDPH310RA11, SAFPH310RA11, PH-300, PH300, 370-PH300, 3889-PH300, TWDPH300, 162238C91, SAFPH300, HLDPH300, HOHPH300
A cross reference listing means that this item should be a suitable replacement for the part numbers listed. You should check the description to be sure it will work in your application.
Ratings Snapshot
Would recommend this product.
Would recommend this product.
excellent product. shipped out fast,
ed a.
Location:
Date: October 23, 2014
excellent product. shipped out fast, good guys to deal with. will definitely buy from again