SAF Holland PH-210RA11 45-Ton Rigid Type Pintle Hook With Air Cushioned Snubber
Part Number:370-PH210RA11
$634.46 USD
Product Details
---
Special Notes

none

Product Description

Manufacturer: SAF Holland
SAF Holland PN# PH-210RA11
Includes Holland's Fast Latch mechanism for one-handed operation
Heat treated cast alloy steel body
Drawbar Eye Dimensions: 2.38" to 3" with 1.25" to 1.63" diameter section
Tested in accordance with SAE J847 (Type II)
MGTW: 90,000 lbs.
Max Vertical Load: 18,000 lbs.
Includes air cushioned snubber
SAF Holland PH210 Tech Sheet (.PDF 353 kb)
The SAF Holland PH210 Series pintle hooks are designed for pulling trailers, semi-trailers, and doubles and triples. This pintle hook includes an air cushioned snubber designed to minimize the space between the pintle hook and the drawbar on vehicles with air systems. For offroad applications, reduce the rated capacity by 25% and use in conjunction with a swivel type drawbar.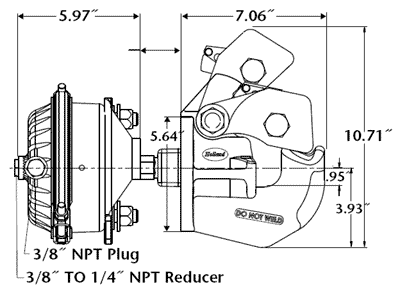 Ratings Snapshot
Would recommend this product.
Would recommend this product.
Owner/operator/ mechanic
Location: North Georgia / Dawsonville
Date: October 20, 2022
Good part. Quick delivery. Thanks
Verified Buyer
Recommended