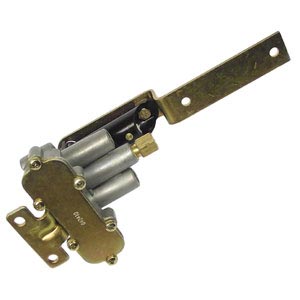 PTP 90054007 Controlled Response Height Control Valve
Ratings Snapshot
Would recommend this product.
Special Notes

none

Product Description

Manufacturer: PTP
Part Number: 90054007
Direct replacement for Haldex brand 90054007 valve
All ports are 1/8" pipe thread
Automatically add air to, or exhausts air from the air suspension to maintain constant static design height
Does not respond to short duration dynamic changes in axle position, thus reducing air consumption which extends compressor life and saves fuel
Cross References: 90054114, 90054147, 90054183, 25526, 90554253, M3263, E4323, 3599, 9257, 334378, 334379, K2954171, M-3263, D4HZ5L712A, GAF121288B, 90054008, 90054113, 90054387, 90554080, 90554153, 90554186, 90554199, 90554232, 90554235, 401225, 767653248691, 66007-0004, 12900193, 12900281, 32755407, 66007-0001
A cross reference listing means that this valve is a suitable replacement for the part numbers listed. Some changes in air line plumbing may be required.
---

Customer Ratings & Reviews
Ratings Snapshot
Would recommend this product.
Would recommend this product.
Hard to find parts
Location:
Date: February 12, 2017
But online shopping made easy! All the parts I needed at affordable pricing. Great service, quality parts and quick response time. Thank you Anything Truck dot com!!
Verified Buyer
Recommended