Bendix K031485 MV-3 Dash Valve, 3/8" PTC 90 Degree Elbows, 1/4"-20 Mounting Holes
060-K031485
$273.68
Product Details
---
Special Notes

none

Product Description

Manufacturer: Bendix
Part Number: K031485
Condition: New
Bendix MV-3 dash valve kit
Supply Ports: 3/8" Push-To-Connect
Delivery Ports: 3/8" Push-To-Connect
Exhaust Port: 3/8" Push-To-Connect
Aux Port: None
Mounting Holes: 1/4"-20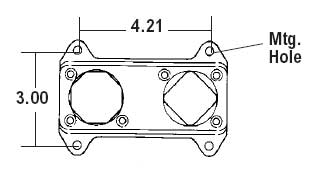 The MV-3 dash control module combines the functions of a PP-1 control valve and a PP-7 trailer supply valve together into a unified device.
The Bendix MV-3 dash control module is a two button, push-pull control valve housed in a single body which includes a dual circuit supply valve and a check valve. The MV-3 valve can duplicate the functions of any existing two or three valve push-pull system and has the advantage of reduced plumbing.
Cross References: K031485, 060-K031485, K031483, K031484
A cross reference listing means that this valve should be a suitable replacement for the part numbers listed. Check the description to be sure this part will work in your application. Some changes in air line plumbing may be required.
Be the first to rate this item!