Centramatic Wheel Balancers
Centramatic wheel balancers install behind the wheel. Once installed, centrifugal force causes the shot and oil filled aluminum balancing ring to automatically balance the tire and wheel as you drive down the road.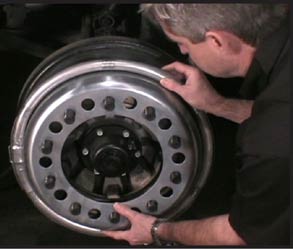 Wheel Balancer Function
The free moving hardened lead alloy shot is bathed in a propietary synthetic oil. This two part combination moves automatically to the side opposite of the heavy points in the wheel assembly. The automatic function of these balancers can even compensate for mud, snow, and ice build up with the ability to correct front wheels that are up to 16 ounces out of balance and rear wheels up to 26 ounces.
Wheel Balancer Installation
Installation is simple and can be done by anyone with the ability to change a tire. The front wheel balancers are installed between the wheel and brake drum. Simply remove the wheel assembly, install the balancer over the wheel studs, and reinstall the wheel. Rear balancers are installed between the duals, so you only need to remove the outside wheel to install them.
Centramatic Balanced Wheel Benefits
Centramatic has done the tests and spoken with the fleets, and the results show that Centramatic balancers will consistently increase tire life by 25% - 50%, solve vibration problems, automatically balance your wheel assemblies while you drive, help to prevent tire cupping, and cause tires to run 8% - 10% cooler. The heat reduction is attributed to dramatically reduced tire deflection along with the balancer acting as a heat shield between the brakes and wheel.
Sold in PAIRS
Centramatic Wheel Balancers for 19.5" Rims

Caution: You MUST know your wheel's bolt circle to choose the proper wheel balancers.

Wheel
Size
Number of
Stud Holes
Bolt
Circle
Axle
Part
Number
19.5"
6 or 8
8.75"
Steer
400418
This wheel balancer if for Ford F-450 & F-550 Series trucks with 19.5" wheels.
Wheel
Size
Number of
Stud Holes
Bolt
Circle
Axle
Part
Number
19.5"
10
8.75"
Steer
400422
These wheel balancers are for Ford F-450 & F-550 Series trucks with 19.5" wheels.
19.5"
10
8.75"
Drive
400423
These wheel balancers are for Ford F-450 & F-550 Series trucks with 19.5" wheels.
Wheel
Size
Number of
Stud Holes
Bolt
Circle
Axle
Part
Number
19.5"
8
275mm
Steer
600627
19.5"
8
275mm
Drive
600628
Wheel
Size
Number of
Stud Holes
Bolt
Circle
Axle
19.5"
10
11.25"
Steer
600610
19.5"
10
11.25"
Drive
600620

Centramatic Wheel Balancers for 22.5" Rims

These balancers are meant for use on class 7 and class 8 semis, trucks, motor homes and coaches with 22.5&quot rims. Please note that options are available for rims with 8 or 10 stud holes.
Caution: You MUST know your wheel's bolt circle to choose the proper wheel balancers.

Wheel
Size
Number of
Stud Holes
Bolt
Circle
Axle
22.5"
8
275mm
Steer
600638
22.5"
8
275mm
Drive
600648
Wheel
Size
Number of
Stud Holes
Bolt
Circle
Axle
Part
Number
22.5"
10
11.25"
Steer
700720
Fits motor coaches such as Prevost and MCI that are equipped with front disc brakes.
22.5"
10
11.25"
Steer
800822
All 2012 and newer steer axles with aluminum wheels including Peterbilt with Alcoa Rim 88667X
Fits Super Singles, Large steer axle brake drums (16.5"), 15" steer axle brake drums with casting sprues
Wheels must be aluminum. Do NOT use with steel wheels.
22.5"
10
11.25"
Steer
900910
Fits steel wheels with 16.5" brakes. Do NOT use with aluminum wheels.
22.5"
10
11.25"
Steer
600630
2011 and older trucks only - Fits aluminum and steel wheels with std. brake sizes
22.5"
10
11.25"
Drive
600640

Centramatic Wheel Balancers for 24.5" Rims

These balancers are meant for use on class 7 and class 8 semis and trucks with 24.5&quot rims. Please note that options are available for rims with 8 or 10 stud holes.
Caution: You MUST know your wheel's bolt circle to choose the proper wheel balancers.

Wheel
Size
Number of
Stud Holes
Bolt
Circle
Axle
Part
Number
24.5"
8
275mm
Steer
600658
2011 and older trucks only
24.5"
8
275mm
Drive
600648
Wheel
Size
Number of
Stud Holes
Bolt
Circle
Axle
Part
Number
24.5"
10
11.25"
Steer
600650
2011 and older trucks only
24.5"
10
11.25"
Steer
800822
All 2012 and newer 24.5" steer axle wheels, steel and aluminum
24.5"
10
11.25"
Drive
600660