SAF Holland PH-30SB41 15-Ton Swivel Type Pintle Hook with Spring Cushion, Bolt-Under Mounting System
Part Number:370-PH30SB41
$404.62 USD
Product Details
---
Special Notes

none

Product Description

Manufacturer: SAF Holland
SAF Holland PN# PH-30SB41
Includes Holland's Fast Latch mechanism for one-handed operation
Swivel action provides torsion relief
Spring cushion provides shock absorption at the coupling
Heat treated cast alloy steel body
Drawbar Eye Dimensions: 2" to 3" with 1.25" to 1.625" diameter section
Tested in accordance with SAE J847 (Type II)
MGTW: 30,000 lbs.
Max Vertical Load: 6,000 lbs.
SAF Holland PH-310SB41 Tech Sheet (.PDF 460 kb)
The PH-30SB41 is a versatile swivel style and front-mount pintle hook designed for over-the-road and off-road applications where a significant amount of articulation is desired for torsional relief. The spring provides shock absorption at the coupling - ideal for heavier-duty utility and construction applications.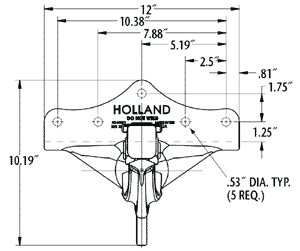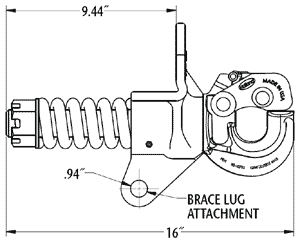 Be the first to rate this item!