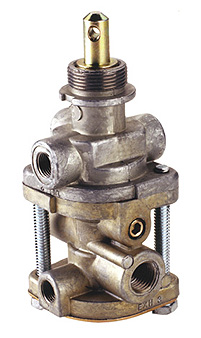 Aftermarket 288239 PP-7 Push/Pull Trailer Supply Valve - Unthreaded Exhaust Port, 40 PSI Release
Special Notes

Button and mtg. nut are NOT furnished with this valve

Product Description

Manufacturer: PTP
Condition: New
Direct replacement for Bendix 288239 PP-7 control valve
Automatic pressure release = 40 psi
Shaft Size: 3/8"
Cross References: 288239, 101479, 101479X, 101849, 101849X, 286706, 288239, 289120, R955288239, RKN20025, 286889, 287049, 287130, 123921, EBN288239N, 65A0421, D5TA2B200AA, D5TZ2951A, X58305, KN20025, K288239, 20QE1283R, LPP-3595, S5677, 401136, 034051, 1092907, 1512730, 3946096
A cross reference listing means that this valve is a suitable replacement for the part numbers listed. Some changes in air line plumbing may be required.
Customer Ratings & Reviews
Be the first to rate this item!