Haldex KN34110 Tractor Protection Valve - Two-Line Manifold Style
070-KN34110
$134.12
Product Details
---
Special Notes

This valve can be used to replace the KN34101 tractor protection valve. The differences are that all of the ports in the KN34110 are pipe thread where some of the ports in the KN34101 are Push To Connect. Simply install fittings in the KN34110 that match the air lines you have on your truck.

Product Description

Manufacturer: Haldex
Part Number: KN34110
Condition: New
Includes tractor protection, two double check valves, stoplight switch port, and built-in quick release, all in one valve
Trailer emergency inlet = 3/8" pipe thread
Foot valve #1 = 3/8" NPT
Foot valve #2 = 3/8" NPT
Hand control = 3/8" NPT
Stoplight switch #1 = 1/4" NPT
Stoplight switch #2 = N/A
Trailer service outlet = 1/2" NPT
Trailer emergency outlet = 1/2" NPT
Exhaust tube = Yes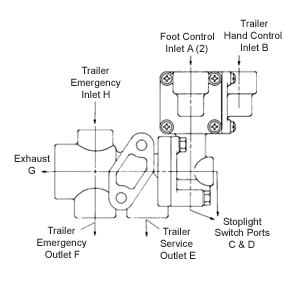 Cross References: 503139C91, KN34090, KN34090X, KNX34090, N31062AA, N30162CA, N30162EA, N30162GA, N30162KA, N30162MA, N30162PA, KN34101, N30162RD, 2585506C91, 503139C91, 990689C91, S-11452, 767653011509
A cross reference listing means that this valve is a suitable replacement for the part numbers listed. Some changes in air line plumbing may be required.
Be the first to rate this item!