PTP KN34070 Tractor Protection Valve Without Quick Release
Part Number:070-KN34070
$134.95 USD
Product Details
---
Haldex has obsoleted the KN34070 tractor protection valve with no replacement available, so the aftermarket company Pro Trucking Products immediately set plans in motion to make an exact replacement available for people who happen to have this valve on their trucks.
The KN34070 can be used to replace the obsolete Bendix TP-2 tractor protection valve.
Special Notes

none

Product Description

Manufacturer: Pro Trucking Products
Part Number: KN34070
Condition: New
Three-line automatic tractor protection valve without quick release
Tractor Control: 3/8" NPT
Trailer Service: 1/2" NPT
Trailer Emergency: 1/2" NPT
Reservoir: 3/8" NPT
Dash Valve:= 1/4" NPT
Stoplight Switch: N/A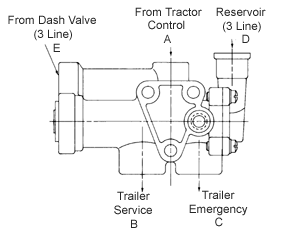 Cross References: KN34030, KN34070X, N30300, 481587, 77S812, 7B6186, 227661, 227662, 227672, 227801, 227932, 228276, 276160, 276161, 283090, G45431, 180217, 70180217, 18A2146, B9Q2951A, CTYCB18718A, TYCB22525A, XC332865, 10130260, MBW004249, KN34000, KN34040, KN34040A, KN34070N, N20952B, N30033D, N30033G, N30073GC, N30073GD, A15207, SV8047, 20QE19018, 20QE335, 20QE355, 176825R91, 176826R91, 184970, 206200, 211205H1, 218869R91, 3212393R91, 3213493R91, 355439C91, 355439C92, 360423C91, 360423C92, 408431C91, 445177R91, 445177R92, 479191C91, 680502R91, 681698R91, 788990C91, 865755R91, 865755R92, 866748R91, 866784R92, 874727R91, 87427R92, 875691R91, 875691R92, 875891R91, 997072R91, 997072R92, 10080G, 14109F, 14109FX, 7650G, 98005598, 36Z950D1, N30073DA, 138962, 53700, 1017506, 16090, 20014, 767653011486, 25E0645, 323780, 633354, 633418, Y633354, A24316, AC24912-001
A cross reference listing means that this valve is a suitable replacement for the part numbers listed. Some changes in air line plumbing may be required.
Ratings Snapshot
Would recommend this product.
Would recommend this product.
just what I needed
Location:
Date: June 28, 2017
thank you
Verified Buyer
Recommended