Haldex BE24020 7-Way Circuit Breaker Style Trailer Wiring Receptacle - With 20 Amp Breakers
Part Number:070-BE24020
$52.48 USD
Product Details
---
Special Notes

none

Product Description

Manufacturer: Haldex
Part Number: BE24020
Includes 20 amp circuit breakers
Mounting centers of 4-1/2" and an overall height of 2-1/2"
Mounts in 4" opening
Zinc plated split brass pins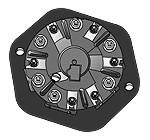 Cross References: BE24020, 070-BE24020, MIDBE24020, HDXBE24020, 78520, 1000-ECA7220A, 5396-BE24020, ECA7220A, 421019, 421120, 38213, 38813, 767653086200, 89003-5001, 890035001
A cross reference listing means that this item should be a suitable replacement for the part numbers listed. You should check the description to be sure it will work in your application.
Be the first to rate this item!