Haldex BE24000 7-Way Circuit Breaker Style Trailer Wiring Receptacle (Special Order)
Part Number:070-BE24000
$36.70 USD
Product Details
---
Use the Phillips Industries 15-760 at the bottom of this page. We stock it, and its much less expensive.
This is a special order item with an estimated lead time of 7-10 days before it ships, and we'll contact you with a verified lead time after you place an order.
Please call, email, or chat for a definite lead time if you're in a hurry.
Special Notes

none

Product Description

Manufacturer: Haldex
Part Number: BE24000
Receptacle only, Breakers sold separately
Mounting centers of 4-1/2" and an overall height of 2-1/2"
Mounts in 4" opening
Zinc plated split brass pins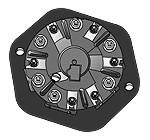 Cross References: BE24000, 070-BE24000, MIDBE24000, HDXBE24000, 24000, 78585, 7870010, 7875054, 7875054AT, 7875054ATA, 5396-BE24000, 055040VEL, 055040, 15-750PHM, 15750PHM, BE24000M1D, 15-750, 15750, 15-755, 15755, 15-760, 15760, 15-773, 15773, 16-760, 16760, 421019, 421054, M24000, 670-7200, 6707200, 29-2-92A, 29292A, 700-17-322, 70017322, 38801, 767653086170, 593066
A cross reference listing means that this item should be a suitable replacement for the part numbers listed. You should check the description to be sure it will work in your application.
Be the first to rate this item!