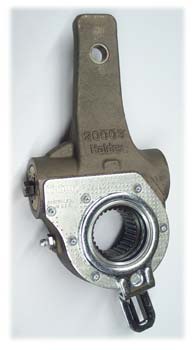 Haldex 40020216 S-ABA Automatic Slack Adjuster - 1.50" 10 Spline, 6" Span
Special Notes

none

Product Description

Manufacturer: Haldex
Part Number: 40020216
S-ABA Automatic Slack Adjuster
Clearance Sensing Adjuster - Adjusts brake automatically based on clearance between the brake drum and brake lining
Fits 1.50" - 10 spline camshaft
6" Arm Length (Span)
Straight slack adjuster, No offset
For use in 16-1/2" trailer brake applications
Uses a standard clevis for attachment to the brake chamber pushrod
Includes one slack adjuster, anchor bracket kit and installation instructions
Cross References: 40010216, HDX40020216, 40920004, ZZ40020216, MID40020216, 40910230, 40910231, 40910247, 40910365, 40910392, 40910476, 40910675, E6936
A cross reference listing means that this slack adjuster is a suitable replacement for the part numbers listed. There may be some differences in look and installation.
Customer Ratings & Reviews
Be the first to rate this item!