Marathon 7809D236 Disc Brake Pad Set
Part Number:456-7809D236
$91.75 USD
Product Details
---
Special Notes

none

Product Details

Manufacturer: Marathon
Part Number: 7809D236
Ideal for severe duty applications
Excellent heat dissipation
Signification noise reduction
Fits certain Ford trucks
Semi-Metallic Brake Pads
4 disc brake pads
Does one axle
High quality brake pads give longer life and lower maintenance costs
FMSI Shoe Number: D236
FMSI Lining Number:7149, 7809
Services one axle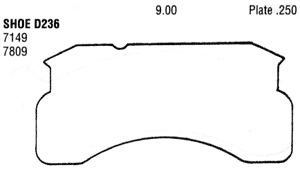 Cross References: 7809D236, 456-7809D236, MD236, 348-MD236, E11102360, E-D236-S, ED236S, FP7149D236, MK236HD, MKD236, D236-CT, D236CT, D236-HD, D236HD, E6HZ2001D, TDAMD236, D236, SX7149, D236-MT, D236MT, MBS7809D236, MBS7809D236FF, E6HZ2001D
A cross reference listing means that this item should be a suitable replacement for the part numbers listed. You should check the description to be sure it will work in your application.
Be the first to rate this item!