Buyers Products RM62000 6-Ton Receiver Mount Combination Hitch, 2" Hitch Ball plus Pintle Hook
Part Number:390-RM62000
$131.67 USD
Product Details
---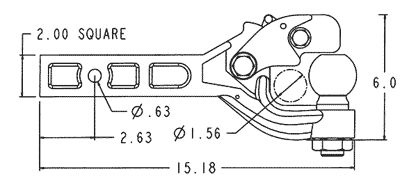 Special Notes

This hitch uses a non-standard hitch ball shank. See the bottom of this page for replacement balls.

Product Description

Manufacturer: Buyers Products Company
Fits Receiver Size: 2"
Pin Hole: 5/8"
Drawbar Eye Dimensions: 2.5"-3" ID with 1.25"-1.562" diameter section
MGTW: 12,000 lbs.
Max Vertical Load: 2,400 lbs.
Cross References: RM62000, 390-RM62000, 7552016
A cross reference listing means that this item should be a suitable replacement for the part numbers listed. You should check the description to be sure it will work in your application.
Be the first to rate this item!