SAF Holland PH-760 25.5-Ton Swivel Type Pintle Hook with Spring Cushion
Part Number:370-PH760
$640.61 USD
Product Details
---
Special Notes

none

Product Description

Manufacturer: SAF Holland
SAF Holland PN# PH-760
Heat treated cast alloy steel body
Drawbar Eye Dimensions: 2.38" to 3" with 1.25" to 1.63" diameter section
Tested in accordance with SAE J847 (Type II)
MGTW: 49,000 lbs.
Max Vertical Load: 9,800 lbs.
SAF Holland PH760 Tech Sheet (.PDF 287 kb)
Use the Holland PH-760 pintle hook with trailers and equipment designed for over-the-road towing within the stated capacities. Use ONLY with a non-swivel type drawbar. For off-road applications, reduce the above capacities by 25%. This pintle hook is well suited for use in the utility and construction industries.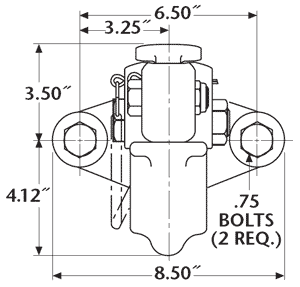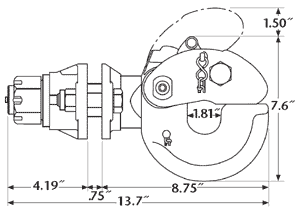 Be the first to rate this item!