SAF Holland DB-1238 11-Ton Rectangular Shank Drawbar
Part Number:370-DB1238
$289.17 USD
This item is unavailable
at this time
Product Details
---
Special Notes

none

Product Description

Manufacturer: SAF Holland
Part Number: DB-1238
Heat treated cast alloy steel
Drawbar Eye Dimensions: 3" ID with 1.63" diameter section
MGTW: 22,000 lbs.
Max Vertical Load: 4,500 lbs.
SAF Holland DB-1238 Tech Sheet (.PDF 282 kb)
The Holland DB-1238 is used on straight tongue trailers, semi-trailers (including doubles), and equipment designed for on- and off-road towing applications within the stated capacities.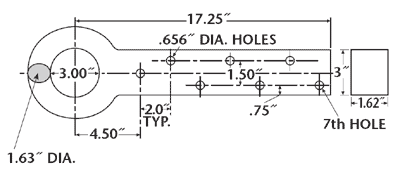 Be the first to rate this item!