Free Shipping Offer
We offer free ground shipping on products marked with our free shipping icon when the shipment destination is inside the 48 contiguous United States.
The free shipping offer only applies to the products in your order that are marked with the free shipping icon. The standard shipping charge will be applied to any products in your order that aren't marked with the free shipping icon.
Spring Pro 886401, Used in Spring Pro 882299 Helper Kit, Replaces Firestone 6401 Air Helper Springs
280-886401
$133.94
Product Details
---
Special Notes

none

Product Description

Sold as each (one air spring)
Spring Pro brand replacement air spring
Replaces Firestone 224C style PN# 6401 air bag
Combo Air Stud: 3/4"-16 outside, 1/4" NPT inside
Top Mounting: 3/4"-16 combo air stud and alignment button
Bottom Mounting: 3/8"-16 threaded hole in center
Compressed Height: 2.80"
Extended Height: 8.75"
Ride Height: 6" - 7"
Max Diameter: 8"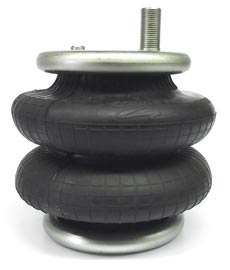 This air bag replaces the air springs used in the following Firestone helper spring kits:
2299, 2330, 2400, 2450
These kits are used on the following vehicles:
2006-2008 Dodge Ram 1500 Mega Cab
2003-2011 Dodge Ram 2500, 3500
1999-2004 Ford F-2350 (over 8500 GVWR)
1999-2004 Ford F-350
2005-2007 Ford F-250, F-350
2008-2010 Ford F-250, F-350
2011 Ford F-250, F-350 (gas only, no factory in-bed hitch)
Cross References: 6401, 224C, 886401
Be the first to rate this item!