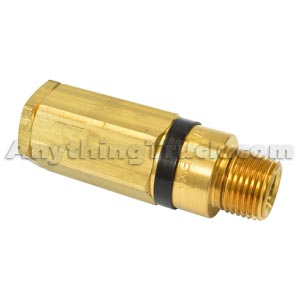 Haldex KN31171 Pressure Protection Valve with One-Way Check Valve, 3/8" NPT Inlet, 1/2" NPT Outlet
Special Notes

This is an obsolete part. Once they're gone, you will need to use 070-90555409 and a 3/8" x 1/4" NPT reducer in the inlet.

Product Description

Manufacturer: Haldex
Part Number: KN31171
OEM Part Number: N15902B
Pressure Protection Valve with One-Way Check Valve
Inlet Port: 3/8" NPT (Female)
Outlet Port: 1/2" NPT (Male)
Opening Pressure: 75 PSI
Cross References: KN31171, 070-KN31171, N15902B, A80571, AC028, A14149, 9348990270, S-20208, S20208, 767653011011, PP-03515, PP03515
A cross reference listing means that this item should be a suitable replacement for the part numbers listed. Be sure to check the specifications against your part to be sure it will work in your application.
---

Customer Ratings & Reviews
Be the first to rate this item!