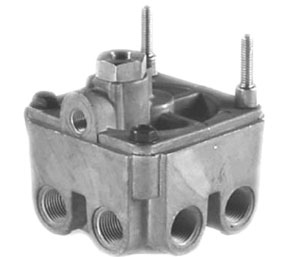 Haldex KN28055 Relay Valve - 4 Delivery Ports, Anti-Compounding, and Dual Crack Pressures
Special Notes

Replacing with a single crack pressure valve is not recommended

Product Description

Manufacturer: Haldex
Part Number: KN28055
Condition: New
Primary biased crack pressure
Multi application air brake relay valve
Four delivery ports
Supply ports (2) = 1/2" pipe thread
Delivery ports (4) = 1/2" pipe thread
Control ports (2) = 1/4" pipe thread
Primary Crack pressure = 4.6 psi
Secondary Crack Pressure = 9.6 psi
Does NOT include bracket, reuse your old bracket
Cross References: KN28053, N30111F, N30111D, N30111, N30111E, N30111A, N30111B, N30111C, 9732980310, 401220, 767653271446, TDARKN28055
A cross reference listing means that this valve is a suitable replacement for the part numbers listed. Some changes in air line plumbing may be required.
Customer Ratings & Reviews
Be the first to rate this item!