Haldex GP3636 Gold Seal Type 36 Piggyback Spring Brake
Part Number:070-GP3636
$176.72 USD
Product Details
---
Haldex Gold Seal piggybacks have all of the features required for long, trouble free life.
Power Spring - Heat treated and powder coated
Diaphragm - Nylon reinforced
Center Seal - Double o-ring center seal and wear rings
Epoxy - Epoxy-coated clamp bands and service return spring
Dust Shield - Patented piloted dust shield maintains push rod alignment and reduces contaminent in the service chamber
Special Notes

none

Product Description

Manufacturer: Haldex
Part Number: GP3636
Type 36 Spring Brake "Piggyback"
Type 36 spring brake chamber
Type 36 service chamber
Stroke: 3.0"
Ports: 3/8" NPT
Spring chamber permanently sealed for safety
Includes spring brake cage bolt
Does NOT include service clamp or diaphragm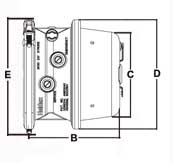 Spring Brake Dimensions

B: 8.0" (Length of Piggyback center body to end of spring housing)
C: 7.2" (Spring housing dimension)
D: 9.4" (Dimension of rolled seal)
Cross References: 3636GP, 030-3636GP, GP3636, EGP3636, HDXGP3636, 15586705, 1373636101, 160367, 160993, 162037, 162038, 163595, 163876, 164884, 164891, 164929, 164984, 164985, 164986, 164987, 164988, 164989, 3636007, MA15480, 5396-GP3636, A1-3299-C-4293, A2-3299-C-4293, A3-3299-C-4293, A4-3299-C-4393, A5-3299-C-4393, A6-3299-C-4393, A7-3299-C-4393, 3437001, 767653298306
A cross reference listing means that this item should be a suitable replacement for the part numbers listed. You should check the description to be sure it will work in your application.
Be the first to rate this item!