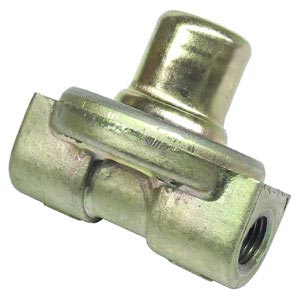 Pressure Protection Valve, 1/4" NPT Ports, 70 PSI Closing Pressure
Special Notes

none

Product Description

Manufacturer: PTP
Condition: New
Closing pressure = 70 psi
Opening pressure = 75 psi
1/4" pipe thread
Cross References: 90054001, E4324, 118181, WM778, WM778-A, E-4325, E4325, F4HS2A435DA, 19QE2109, 790331C91, 90054001, 90054473, 17-7-261, 767653252131, NW90554107, 72807-0005, 12900146, 32755707, A-CF9852-1, RBQ109083, 35708-4401
A cross reference listing means that this valve is a suitable replacement for the part numbers listed. Some changes in air line plumbing may be required.
Customer Ratings & Reviews
Be the first to rate this item!