Bendix D786-7654 Disc Brake Pad Set for 66mm Calipers
Part Number:060-MKD786A
$142.43 USD
Product Details
---
Special Notes

none

Product Details

Manufacturer: Bendix
Part Number: MKD786A
Fits certain Ford and IH/Navistar trucks with 66mm caliper pistons
4 disc brake pads
Does one axle
High quality brake pads give longer life and lower maintenance costs
FMSI Shoe Number: D786
FMSI Lining Number:7654
Lining Thickness: 20.3mm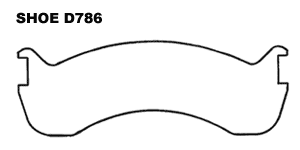 Cross References: MKD786A, 975868, E10907861, MKD786ABXW, D786-HD5, E-D786-S, ED786AV, KHD786A, UP7654M, 2501842C91, BXE10907861, ZJCMKD786A
A cross reference listing means that this pad kit should be a suitable replacement for the part numbers listed. You should check the product description to be sure it will work in your application.
Be the first to rate this item!