Bendix 800522 MV-3 Control Module - M6 x 1-6H Threaded Mounting Holes, 1/8" NPT Aux. Port
Part Number:060-800522
$275.08 USD
Product Details
---
Special Notes

none

Product Description

Manufacturer: Bendix
Part Number: 800522
Condition: New
Ports: 1/4" NPT
Aux Port: 1/8" NPT
Mounting Holes: M6 x 1-6H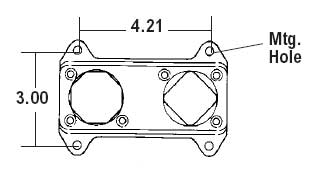 The MV-3 dash control module combines the functions of a PP-1 control valve and a PP-7 trailer supply valve together into a unified device.
< p>The Bendix MV-3 dash control module is a two button, push-pull control valve housed in a single body which includes a dual circuit supply valve and a check valve. The MV-3 valve can duplicate the functions of any existing two or three valve push-pull system and has the advantage of reduced plumbing.
Cross References: 800522, 060-800522, 065208, 65208, 800584, RKN20605, 20QE3316M2, 5396-KN20603, S-16924, 5005083, 106981, 5005645, 5005646, BW800522, BW 800522, KN20605, 5396-KN20603, 745-065208, 745-106981, 745-800522, WA800522, TWDBEN800522, BEN800522, BAN800522, BX800522, ZAC800522, S16924, 800522BXW, TV800522TEC, TV800522, BX-800522, 401826
A cross reference listing means that this item should be a suitable replacement for the part numbers listed. You should check the description to be sure it will work in your application.
Be the first to rate this item!