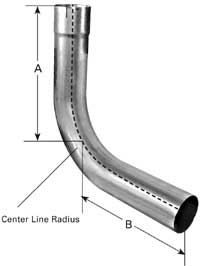 PTP 10306 90 Degree 4" ID-OD Aluminized Exhaust Elbow, 18" Legs, 8" Centerline Radius
Special Notes

none

Product Description

Manufacturer: Pro Trucking Products
Part Number: 10306
90 degree elbow
4 inch ID - OD
Length A-B: 18" - 18"
Centerline Radius: 8"
Aluminized
Cross References: 10306, 045-10306, ABP N49 40EL90117A, P206345, 10L-400, 10L400, A-41818A, A41818A, 89106A, 69400, L490-1818, L4901818, L490-1818A, L4901818A, 12400FA, 12400, 218-1207, 2181207, 218-1208, 2181208, 809406, 9306, FG89106A, NFM89106A, 42937, 43602
A cross reference listing means that this item may be a suitable replacement for the part numbers listed. Please double check the product description carefully to make sure this part will fit your application.
Customer Ratings & Reviews
Be the first to rate this item!