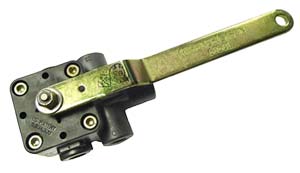 Height Control Valve with Integral Dump Valve, Use Only On Trucks
Special Notes

For use only on power vehicles. Do NOT use on trailers.

Product Description

Manufacturer: Euclid
Replaces Barksdale-made Hendrickson valve with dump feature
Designed as a universal replacement valve for left or right side of vehicle
Cross References: 52341Q165, 52341Q86, KD2315, WC13583801, 3341648, 3341716, E-11870, 57977-000, KD2265, 0802647, LV57977
A cross reference listing means that this valve is a suitable replacement for the part numbers listed. Some changes in air line plumbing may be required.
Customer Ratings & Reviews
Be the first to rate this item!