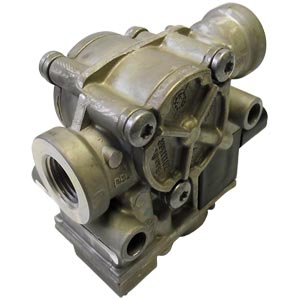 Bendix 801481 M-32QR Antilock Modulator with Quick Release, Packard, 12-Volt, Navistar Trucks
Special Notes

Do NOT mix modulator models on an axle. Replace both modulators if they are an obsolete model.

Product Description

Manufacturer: Bendix
Part Number: 801481
Condition: New
Exhaust Adapter: NO
Supply Port: 1/2" NPT
Delivery Port: 1/2" NPT
Electrical Connector: Packard
Supply Voltage: 12-volts
You can replace your Bendix 801479 with this modulator. The 801479 has push-to-connect ports. The 801481 has pipe thread ports, so you would just need to add the proper fittings.
The Bendix 801481 M-32 ABS modulator will replace the following M-30 modulators: 5005894, 5006659, 5008951, and 5009304.
M-32QR ABS (antilock brake system) modulators are high capacity, on/off air valves that incorporate a pair of electrical solienoids to control.
The M-32QR is a direct replacement for M-30 modulators. The M-32QR uses a bias valve to provide an internal quick release function.
When replacing M-30 modulators on a steer axle, be sure to replace both with M-32 modulators.
Cross References: 801481, 5011280, 5014705, 5005894, 5006659, 5008951, 5009304
A cross reference listing means that this part should be a suitable replacement for the part numbers listed. Some changes in installation may be required.
Customer Ratings & Reviews
Be the first to rate this item!
Documentation
Bendix M-32QR Service Data Sheet
---