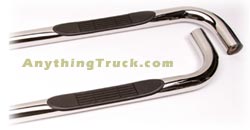 Nerf Bars
by AnythingTruck.com
Free Shipping! No coupon required!
* Some restrictions apply
What fits my vehicle?
We've gone private label
We decided to cut out the middleman, so we're manufacturing our own nerf bars exclusively for AnythingTruck.com. While brainstorming a name we concluded that there are enough animal, outdoors-sounding and just plain corny names being used already. Therefore, we'd like to introduce our No-Name Nerf Bars.
You don't want to base your nerf bar decision on price alone
At AnythingTruck.com, you will find a terrific price, and we support our customers before, during and after the sale. Customers who need help installing their nerf bars have access to trained tech support. If that's not good enough, you will speak to our professional installation technician. Buying your truck's nerf bars at auction or from a less-than-reputable store can leave you feeling like a chump when something goes wrong. Save yourself the trouble. Shop at AnythingTruck.com, and you can shop with confidence.
Nerf bars starting at $188.00


All No Name nerf bars are sold in pairs
complete with mounting hardware!

Sold in pairs - No drilling required - Free shipping - Limited lifetime warranty
What's in a name?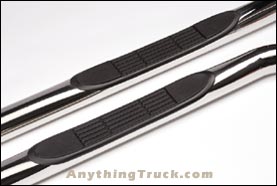 Here are some honest facts about nerf bars. Drop the name off of your favorite stainless steel nerf bars, and what do you have? You have a stainless steel tube bent to fit your truck and some plastic step pads.
Okay, that's a bit oversimplified, but it is true. The manufacturer's attention to the details is what determines the quality of nerf bars. You know, things like the grade of stainless steel, quality of the bend and the shine of the polish.
Every No-Name nerf bar is made of top quality 304 marine-grade stainless steel. Some websites will tell you that you are getting stainless steel, but they won't mention the grade of stainless. This can cause a problem for you because there are other types of stainless steel that are not quite as good as 304.
Our nerf bars have high quality, mandrel bent ends that don't have that wrinkled appearance in the bend that you see on many of the lesser quality bars. All you see is smooth, shiny stainless steel. So, that brings us to the shine. We have yet to see any nerf bars, name brand or not, that have a finer polish.
Many nerf bars are marketed as having an easy, no-drill installation, but let's face it. Any bar worth looking at, including these, uses virtually the same no-drill installation method on any given vehicle. It has become an industry standard sort of thing, so that takes care of the easy installation argument.
Important Features:
Cab length nerf bars

Limited lifetime warranty

16 gauge 3" 304 stainless steel bars
Powder coated mounting hardware
Step pads at each door
Recessed, not cut out, step pads with stainless steel mounting clips
No drilling required
Mirror polished finish
Sold in pairs with all required hardware
AnythingTruck.com No Name Nerf Bars Installation Instruction Sheets
Kits without links will come with an installation diagram, but step by step instruction sheets are still being developed.
* Free shipping offer available on ground shipping to addresses in the 48 contiguous states only.
Supplying quality parts
online since 2000!