What's in a name?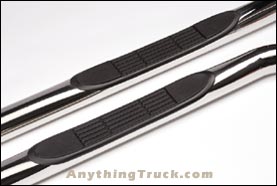 Here are some honest facts about nerf bars. Drop the name off of your favorite stainless steel nerf bars, and what do you have? You have a stainless steel tube bent to fit your truck and some plastic step pads.
Okay, that's a bit oversimplified, but it is true. The manufacturer's attention to the details is what determines the quality of nerf bars. You know, things like the grade of stainless steel, quality of the bend and the shine of the polish.
Every No-Name nerf bar is made of top quality 304 marine-grade stainless steel. Some websites will tell you that you are getting stainless steel, but they won't mention the grade of stainless. This can cause a problem for you because there are other types of stainless steel that are not quite as good as 304.
Our nerf bars have high quality, mandrel bent ends that don't have that wrinkled appearance in the bend that you see on many of the lesser quality bars. All you see is smooth, shiny stainless steel. So, that brings us to the shine. We have yet to see any nerf bars, name brand or not, that have a finer polish.
Many nerf bars are marketed as having an easy, no-drill installation, but let's face it. Any bar worth looking at, including these, uses virtually the same no-drill installation method on any given vehicle. It has become an industry standard sort of thing, so that takes care of the easy installation argument.
Important Features:
AnythingTruck.com No Name Nerf Bars Installation Instruction Sheets
Kits without links will come with an installation diagram, but step by step instruction sheets are still being developed.