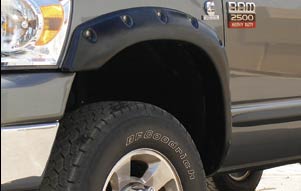 Stampede Products
Fender Flares
Receive free shipping on this item.
Enter coupon FREESHIPPING at checkout.
* Some restrictions apply
Stampede Products' Riderz series fender flares are made to exacting standards, so you can be sure that each kit has been engineered to fit like a glove. They are made of tough Tri-Blend plastic material for long life. The Tri-Blend material comes in black, but it can be painted if you want your fender flares to match your truck's paint.
There are three styles to choose from: Original Riderz, Trail Riderz, and Ruff Riderz. Trail riderz are designed to look like OE fender flares. Trail Riderz are similar except that they are wider. Ruff Riderz fender flares have the extra width of the Trail Riderz plus they feature stainless steel bolt accents for a tough bolted-on look.
Original Riderz

"OE Style"

Trail Riderz

"Extra Width"

Ruff Riderz

"Bolt-On Look"

Original Riderz OE look fender flares are perfect for people who wish their truck had come with flares from the factory. They'll give you an inch and a half of extra tire coverage on the side of your truck.

Trail Riderz offer a custom look that you can't accomplish with an OE style fender flare. The extra bulk of the Trail Riderz goes great with trucks that are lifted or have wider tires.

Install a set of Ruff Riderz fender flares when you really want to make a bold statement. These are extra wide, extra tough looking flares that look like they are bolted to the side of your truck. These are a super choice for 4x4 trucks with all-terrain tires.
Stampede Products' Riderz fender flares do not fit Stepside truck beds.
* Coupon offer available on ground shipping to addresses in the 48 contiguous states only.