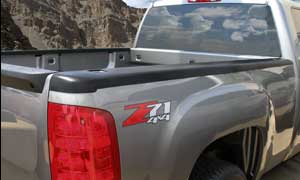 Stampede Products
Rail Topz Bed Rail Caps
Receive free shipping on this item.
Enter coupon FREESHIPPING at checkout.
* Some restrictions apply
Stampede Products' Rail Topz truck bed rail caps are made of tough, UV resistant ABS for extremely long life, and they're contoured to fit your pickup truck as if they were installed at the factory. The ABS plastic used to make Rail Topz bed caps is impact and warp resistant, so you can use your truck for work or play without worry. Installation is easy with the included high quality 3M brand automotive tape.
Rail Topz have a light texture and are available in ribbed or smooth and with stake pocket holes or without. The standard color is black, but the smooth bed rail caps can even be ordered in one of Stampede's officially licensed camo patterns.
TIP: Do you use the stake pocket holes in your truck bed rails? We recommend installing smooth bed rail caps without stake pocket holes if you plan to install a tonneau cover or topper. Covering the stake pockets will keep water from entering the truck bed through those holes.
Smooth Bed Cap

Available with stake pocket hole

Ribbed Bed Cap

Available without stake pocket hole

Camo Bed Cap

Smooth bed caps only
* Coupon offer available on ground shipping to addresses in the 48 contiguous states only.